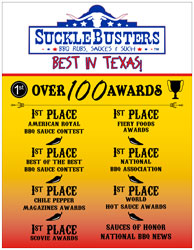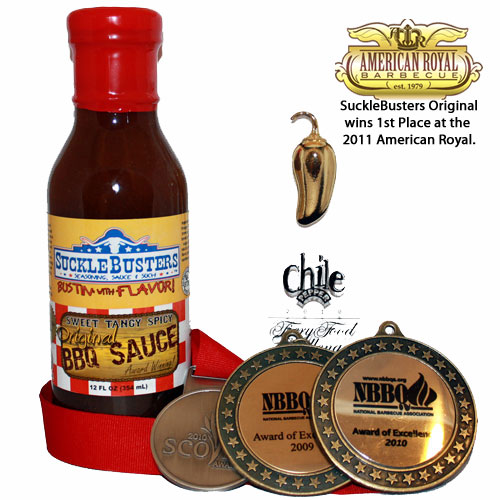 Floor Display Award Winning Products The Best in Texas!
SuckleBusters Wholesale BBQ Rubs and Sauces
The world of BBQ is HOT and so is SuckleBusters! Our award winning Texas Style BBQ Rubs, BBQ Sauces, Texas GunPowder, Salsas and Hot Sauces have received national attention and are in high demand. To meet the increased sales, SuckleBusters is rapidly expanding our retail, wholesale and distribution channels and we are looking for great partners - just like you! Join us and sell the Best BBQ Rubs & Sauce that is made in Texas! Our wholesale program is quick, easy and most of all - PROFITABLE! SuckleBusters is the best Specailty BBQ Rub and Sauce Distributor in Texas.
For all the details of our wholesale program, contact us today: sales@sucklebusters.com
Product Catalog Wholesale Order Form

Distributors:
Hot Shots Hot Sauce (North Carolina)
1-888-248-5159
Single Point BBQ Supply (Australia & New Zealand)
1300-690-772
email: louis.alexander@singlepoint.com.au
Starbridge (Germany)
49-91-7567457
email: info@starbridge.de
SuckleBusters Wholesale Direct Orders

1-972-393-9509
phone
1-972-432-7565 fax

SuckleBusters Wholesale Direct Ordering:
2 Case minimum opening order. Cases may be split for like-sized BBQ Rubs and BBQ Sauces.
Fax orders to (972) 432-7565.
Phone orders to
(972) 393-9509 during normal business hours.
email orders to sales@sucklebusters.com.
Mail order forms to: SuckleBusters, P.O. Box 2006, Coppell TX 75019.
Orders ship within 24 hours.
Prices are FOB Coppell, TX and subject to change without notice.
Payment Terms:
All orders are pre-paid by major Credit Card unless otherwise preapproved.
We offer Net 30 terms with credit approval.
Shipping:
Shipping is 10% of order total or actual shipping, whichever is less.
BBQ Rubs and BBQ Sauces orders are shipped UPS Ground or LTL as required.
Samples:
BBQ Rubs and BBQ Sauces sample provided upon request.
SuckleBusters Website Listing:
We list your business on our website to help customers find your store.
The listing includes; business name, address, phone number and a link to your website if applicable.
Thank you, we look forward to meeting your needs for BBQ Seasoning, BBQ Rubs, BBQ Sauces and Such!