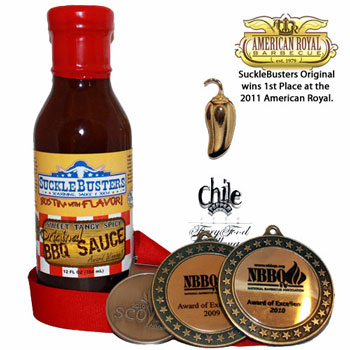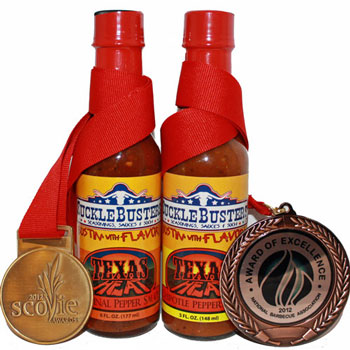 Award Winning Products Excellent Margins Great Service
SuckleBusters Wholesale BBQ Rubs, BBQ Sauces, Texas GunPowder, Salsas and Hot Sauces are available for resale when ordered by the case. Minimum order 2 cases. Join us and resell SuckleBusters award winning BBQ Rubs and BBQ Sauces. SuckleBusters has gained national recognition from awards and we are experiencing increased demand across the US for our products. Now is a great time to get started - call or email one of our distributors today!
For more wholesale information:
To place a whoesale order, contact one of the following distributors:

McLendon and Company
(Gift and Gourmet Food - TX, LA, OK, NM & AR)
1-214 748-1555
bob@mclendon.com
Roy Arnold Sales
(Souvenirs - Texas)
1-214 642-4513
arnoldandcompany@sbcglobal.net
Cross Country Marketing
(Gift and Gourmet Foods - Mid East Coast)
Sharon Britton
1-804-928-9426
sharon@xcmarketing.com
Patterson and Company
(Gift and Gourmet - FL, GA, AL, MS)
1-770-505-9567
suepatterson371@yahoo.com
Hot Sauce Depot
1-877-857-8752
Hot Shots Hot Sauce
1-888-248-5159
Buyers Best Friend
1-888-223-4797
http://www.bbfdirect.com/rpc/suckle-busters
SuckleBusters Wholesale Direct Orders

1-972-393-9509
SuckleBusters Wholesale Direct Ordering:
2 Case minimum opening order. Cases may be split for like-sized BBQ Rubs and BBQ Sauces.

Fax orders to (972) 432-7565.

Phone orders to (972) 393-9509 during normal business hours.

email orders to sales@sucklebusters.com.

Mail order forms to: SuckleBusters, P.O. Box 2006, Coppell TX 75019.

Orders ship within 24 hours.

Prices are FOB Coppell, TX and subject to change without notice.
Payment Terms:
Shipping:
Shipping is 10% of order total or actual shipping, whichever is less.

BBQ Rubs and BBQ Sauces orders are shipped UPS Ground or LTL as required.

Special shipping and 3rd Party billing OK.

Damaged BBQ Rubs and BBQ Sauces must be reported within upon receipt of order. We replace any damaged product(s) at no charge or provide a credit for the damaged products. Do not dispose of any damaged goods before contacting SuckleBusters. Please take a picture if possible.
Samples:
BBQ Rubs and BBQ Sauces sample provided upon request.
SuckleBusters Website Listing:
Thank you, we look forward to meeting your needs for BBQ Seasoning, BBQ Rubs, BBQ Sauces and Such!